Data centre solutions across India from hyperscale campuses to hyperlocal edge facilities
Adani's foray into the technology business will begin with its first hyperscale data centre called Adani Chennai-1, which is currently being built.
Most recently, AdaniConneX, a new Data Center Joint-Venture (JV) was formed between Adani Enterprises and EdgeConneX. The JV will develop 1GW of data center capacity over the next decade.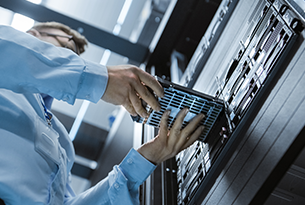 AdaniConneX provides a full range of data centre solutions across India from Hyperscale Campuses to Hyperlocal Edge facilities. The JV will focus on building a network of hyperscale data centers in India, starting with Chennai, Navi Mumbai, Noida, Vizag, Pune and Hyderabad. Development and construction at these sites have already begun.
As one of the leading renewable energy companies in the world, Adani's ability to power its data centres with solar and wind energy address some of the environmental challenges of building and operating data centres.
Southeast Asia is one of the fastest-growing data centres in the world. Businesses continue to rapidly expand into and within Southeast Asia (SEA), further driving demand for digital services. Data centres are at the heart of this growth. we are keen to establish partnerships in the SEA region with the acceleration towards digitalisation driven by the Covid-19 pandemic.
For more information please visit https://www.adani.com/businesses/data-center