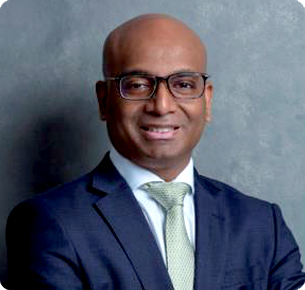 Jeyakumar Janakaraj
Country Head, Adani Singapore
Jeyakumar Janakaraj is the Country Head of the Adani Singapore. Fondly known as JJ, he is a veteran leader who has successfully built and managed large-scale infrastructure projects and businesses spanning wide geographical locations from India, Africa to Australia for over two decades.
A firm believer in harnessing phenomenal growth through harmonising a multicultural workforce, some of JJ's notable achievements include leveraging on technology and people empowerment in accelerating project timelines as well as delivering innovative concepts to optimise operations. Through his expert guidance, JJ has led companies through significant expansion, growth and financial performance. JJ has been awarded the Gold Medal by the Indian Institute of Metals for his significant contribution to the non-ferrous metallurgical industry and the DEMAG Gold medal for innovative leadership by the Indian Institute of Metals. In 2009, JJ was listed in the prestigious International Who's Who of Professionals.
Before taking the helm at Adani Singapore, JJ was the CEO and Country Head of Adani Group in Australia in 2013. Prior to that, he carved an 18-year career holding various senior-level management roles with Sterlite Industries since 1995. He also sits on the Accenture Global Mining Executive Council. JJ holds a Bachelor of Mechanical Engineering from PSG College of Technology, Coimbatore.