Latest cargo-handling infrastructure which is not only best-in-class, but also capable of handling the largest vessels ...
Adani is India's largest commercial port operator and integrated logistics player, we offer a one-stop solution for ports, logistics and dredging.
Building on our expertise in port / terminal and logistics management we provide economic opportunities and enhance mutually beneficial trade relations. We aim to be a preferred partner in this region by extending our expertise in ports and logistics management through partnerships with different stakeholders.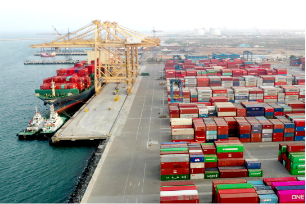 From our in-depth experience in container ports, we also have the capabilities and capacities in multi-purpose, liquid, LPG (Liquified Petroleum Gas) and LNG (Liquified Natural Gas) ports. Supporting our partners in building, management and operations of the ports improves port connectivity. This will further enhance trade relations between this region and India.
Currently our partnership includes a joint-venture (JV) a joint-venture (JV) with Swiss-based Mediterranean Shipping Company S.A (MSC), the second-largest shipping liner in the world, creating a transhipment hub for the Middle East, South Asia and India. We also have a JV with France-based CMA CGM group, one of the world's leading Container Carriers and port operators to jointly operate container terminal 4 at Mundra Port. The JV makes Mundra Port the largest. And we are in a collaboration with Wilhelmshaven Freight Village Container Terminal, the only deepwater container terminal in Germany, to promote trade and container shipping business between Adani Ports and Wilhelmshaven Port.
Adani Ports and Special Economic Zone Limited (APSEZ) is one of the companies to sign up for the Science-Based Targets initiative (SBTi), a collaboration between Carbon Disclosure Project (CDP), the United Nations Global Compact, World Resources Institute (WRI) and the World Wide Fund for Nature (WWF). The SBTi defines and promotes best practices in science-based emissions reduction targets.
For more information please visit https://www.adani.com/businesses/ports-and-terminals